How do you experience the workload at the Academy?
Stephanie (Class #42, week 7/11)
I didn't have any coding experience at all before I started at Codaisseur, so the Academy has been pretty challenging to me. I think it is really important to prepare yourself well before the course. Also try to keep up with the everyday material, even if this means that you sometimes have to do some extra work in the weekends. But I believe that if you really want to go for it, everyone can become a programmer at Codaisseur.
Andrew (Class #41, week 10/11)
For me, the workload depends on the concepts being taught that day/week. Sometimes it takes a bit of extra time to understand everything clearly and fortunately there are teachers/TAs always available to help you out. It's possible to consistently complete the daily reader modules by the end of each day, but some of the optional projects might take up some of your free time, if you so choose. Moving into the assessment periods are stressful, but I feel like that's true with any test period.
Bart (Class #43, week 4/11)
Well this is different for everyone and I had some experience coming into the academy, so for me, the workload is just right. The materials offer a lot of expandability, that means that on a good day I can expand my knowledge, vice versa when I am having a slow day, I can skip some details for later. This method assures I can keep up with class and abide to my own pacing. 
Diane (Class #41, week 10/11)
I thought the workload in the first weeks was high, it definitely pushed me. It was a lot of new information and a relatively very short amount of time. Even though it was challenging and hard work, I really loved it. I think that helps a lot. Also, the teachers are fantastic and very supportive, so I never really felt too stressed out.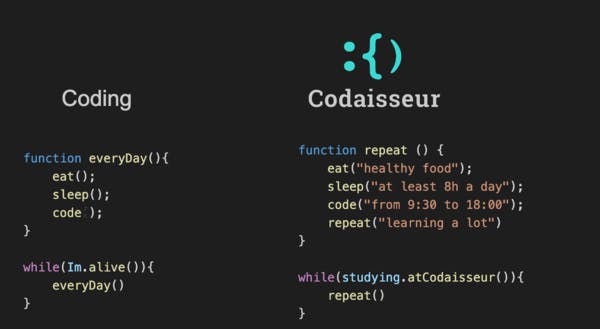 After a day of coding, what is your way to relax?
Bart (Class #43, week 4/11)
Have some good food, go outside and unwind. However, if you have some hunger left, re-watch a lecture or re-read some concepts. Consuming course materials after the normal work hours can be strangely invigorating I've noticed.
Stephanie (Class #42, week 7/11)
After sitting a whole day inside, behind my laptop, the best way for me to relax is to go to the beach and go surfing. I'm not really good at it yet but being outside and doing something physical is what you really want to do after a long day of coding.
Diane (Class #41, week 10/11)
A good dinner and something that doesn't require much brainpower, like a breezy Netflix series.
Andrew (Class #41, week 10/11)
I am a gamer. After making some dinner I usually hop back on to play a few rounds of APEX. If I really feel like I can't look at a computer screen any more, I will pick up a book or listen to music in bed. 
What is the most important lesson you take away from the Academy at this point?
Diane (Class #41, week 10/11)
Codaisseur reminded me how exciting it can be to learn, to grow. Now that I'm swung into this crazy learning curve, I just want to learn more. Looking back after 10 weeks, I'm incredibly happy that I made the decision to take the leap and go for it. I'm very grateful for the Academy and everyone involved that I got the opportunity to do so.
Andrew (Class #41, week 10/11)
Coding, aside from the purely technical side of it, is about problem-solving. It's about being comfortable not understanding something, but confident that, with enough time, you will find the answer. Also, don't be afraid to ask questions. It shows that you are dedicated to your education and guaranteed, someone else will probably have the same question but be too shy to ask.
Bart (Class #43, week 4/11)
Seeing the big picture is an accumulation of many small pieces. Don't try to rush it and thus take joy in how carefully and brilliantly the small pieces add up to a form your products. Value the nitty-gritty and keep your eyes open when a part of the puzzle is added, that way you can expect nothing but smooth sailing and to simply enjoy the journey...
Stephanie (Class #42, week 7/11)
The most important lesson to me was that I learned not to be afraid of new things/languages, and learn how to learn. This sounds a bit weird but because programming languages are always changing, you have to find a way to keep up to date but also find a way to learn new things. At Codaisseur you get a good basic stack of languages and tools but you also learn how to easily adjust to new things.
Any other remarks you would like to share?
Bart (Class #43, week 4/11)
Learning to code is one of the most satisfying activities, it is highly creative and you can put a lot of your own ideas a vision into it. It makes you forgot time and assures that you are never bored.
Andrew (Class #41, week 10/11)
Try to enjoy the process, It's exciting to learn new things and, trust me, you will learn. Be kind and patient with yourself. It's amazing how much a good night's sleep can shift your perspective, and make things seem so much easier. Good luck to anyone taking this course and see you on the other side!